Your ads are ready to be published, but now you need tell Google or Microsoft where you want to appear and who will be able to see your ads.
Let's start exploring the where-side of your targeting. There are 2 main options when selecting a location in Google & Microsoft:

1. You can provide cities, provinces or countries:


This is the most common location selection and apply to the majority of businesses. What you need to consider here is the following:
If your advertising budget is small (< 1000$/month) don't tend to cover an entire country, but focus on a smaller area (city).

If you want to advertise your service, which is location sensitive in other cites/ countries, make sure to include your location in your selected keywords. (see keyword section)
Example:

If you offer travel tours in a certain city (Example; Paris) and want to advertise in other countries, make sure to include the city (+paris) in your selected keywords
2. You can provide your business address and set a radius of x km/miles around it.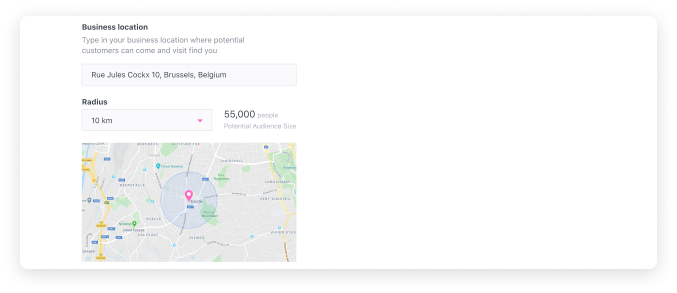 This location setting is interesting for local businesses looking for new offline visitors. In Instaon, we cover this goal with "Location visitors".

The idea is to put your business address with a given radius (ex. 4miles/km). As a result, only users within a reasonable distance from your shop will be able to see your ads. (and then walk or ride to your shop to buy your product/ service )
You will see the covered area and estimated reach after your selection. Keep in mind to have enough estimated volume. Putting less than 3miles/km as setting, will often lead to few clicks and poor performances (unless your business is located on Time Square)