97% of people visiting your site for the first time leave without buying your product. And you end up losing them forever.
So how can you bring them back?
Retargeting campaigns can be a great way to reconnect with your customers and increase your sales. They help you remind those who have already visited your website and leave it without buying to make or complete a purchase. These campaigns allow you to retarget your visitors with relevant ads when they visit other websites.
Retargeting campaigns can be done through different advertising platforms. For example, Google Ads remarketing allows you to place your ads so these audiences see them while browsing Google or its partner websites.
How does it work?
When potential customers come to your website to see what you have to offer. Later, they will begin to see ads for your products on other websites that they visit. You've attracted their interest, and they'll be back now, ready to make a purchase.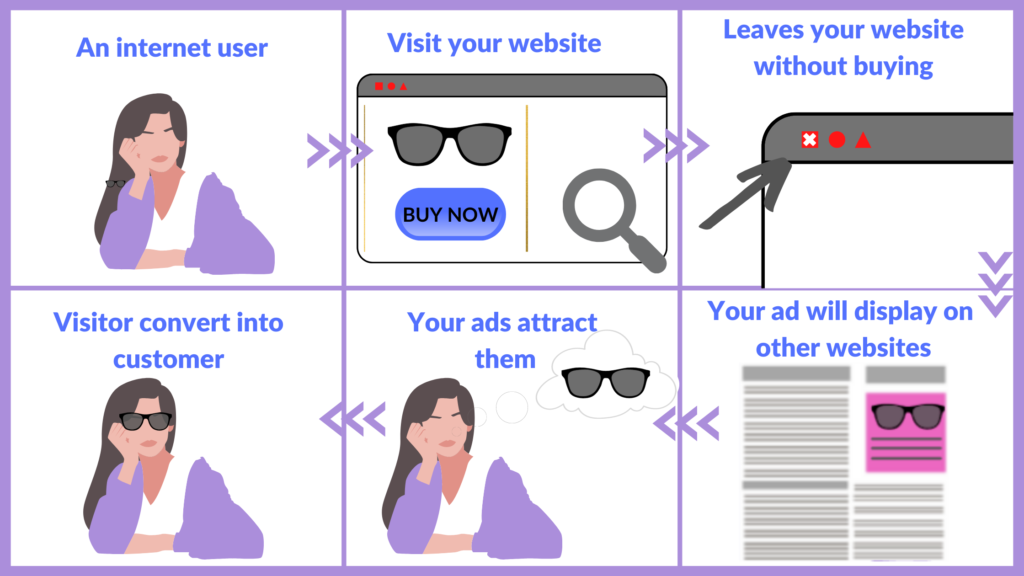 What are the different ways to use Google Ads remarketing?
Website remarketing
Website remarketing is the most common way to do Google Ads remarketing. These remarketing ads are shown to previous visitors that left your website without buying the item they want. It also shows ads of products or services that customers looked at on your website or apps. 
However, Website remarketing tends to disappear with the deprecation of third-party cookies. So it is important to consider and rely more on alternative first-party strategies and fortify customer relationship.
Customer list
Another way to do remarketing is by uploading a list of your customers' contact information they have provided you with using Customer Match. These types of ads display across various Google products if customers are signed into Google. 
Customer list is not only for leads (people who visited your website and haven't bought yet) but also for actual clients to increase retention or upsell.
Video remarketing
Finally, remarketing with videos shows ads to individuals who have interacted with your videos or YouTube channel while using YouTube and the Display Network videos, websites, and apps.
What are the benefits of remarketing ads?
Remarketing is a crucial component of your advertising. More significantly, remarketing ads can help get a quick and vast reach. Your ads display to individuals on over 2 million websites and mobile apps. And they are more likely to respond.
When done correctly, remarketing helps you create price-efficient and high-performing ads. Real-time bidding helps you win the ad auction for the best price.
It also allows you to make remarketing lists for specific advertising. You could, for example, build a remarketing list for customers who placed something in their shopping cart but didn't finish the purchase.
You can create your ad simply and easily using the Ad gallery and get its statistics.
Finally, Google ads remarketing is a long-term marketing strategy for your business. It helps you convert your website visitors into customers after they've left without a purchase.
Remember, customers, want to know you before they decide to buy your product or service. So retargeting is a great way to engage and interact with people who have already shown interest in your product or service.