When setting up a Google or Microsoft (Bing) Ads campaign, you will have to provide Instaon an initial Ad template. This template will be used to create multiple ads in the optimisation process in order to improve your ads results.
The ad template consists in titles, descriptions, website URL and phone number (optional). More advanced settings are available but will be discussed later.
Your ad template is what people will see as search result every time your ad is triggered. No need to say how crucial this one is…
When creating your ad template, think of this list
Craft messaging that focuses on user benefits.

Focus on your Titles. The quality of these will determine how well your ads will perform

Remember title #1 is more important than title #2 & #3

Aim for longer headlines and descriptions in most cases

Include your top keywords in your titles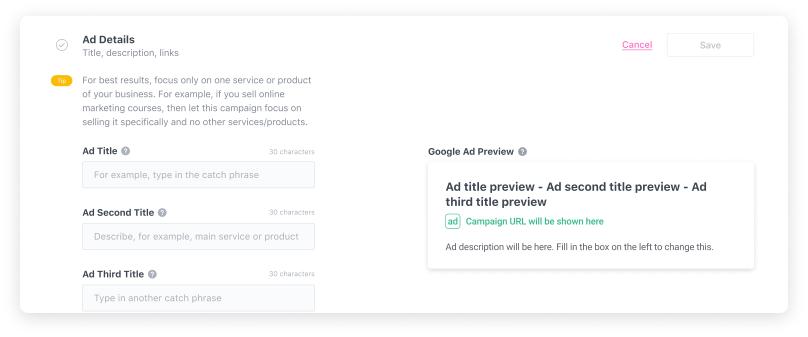 Do's:
Even if the third title is optional, we highly recommend you to write one.
Include your most important messaging in the titles: your offering and how users can benefit from it.
Aim for long titles & description. It will increase the clickable space of your ads.
Dont's:
Don't include phone numbers

Don't include more than 1 special character (%@#)

Avoid using exclamation marks (!)

Don't write same titles
If you choose 'Get more calls' as advertising goal, you will be asked to introduce your phone number.

In order to get more calls, you need to highlight your number on your ads. This will allow potential customers to call you straight away from their smartphone.